Life isn't always fun and games and neither is World of Warcraft. There are just some things that can really get on my nerves. I'm not really a hardcore raider. I have been on raids plenty when we where in icy cold Northrend, but since cataclysm hit us, I'm still on cooldown. It can be a while till I'm up again to. I love the new territories, quests and all that comes around it. I definitely love the new dungeons, where it became more important to works together and think things thru before running head-on through a dungeon.  The WOTLK-dungeon, where just about running in, killing this that are in are in your way and then you are done.
At the beginning Cata-dungeons, appeared that much harder, but now……..
A lot of people that come in a dungeon seem to be in a hurry again

They run in start hitting things and want to be out there in 5 minutes if they could just make it happen. Yelling all the way that the dps/tanking or healing is to low.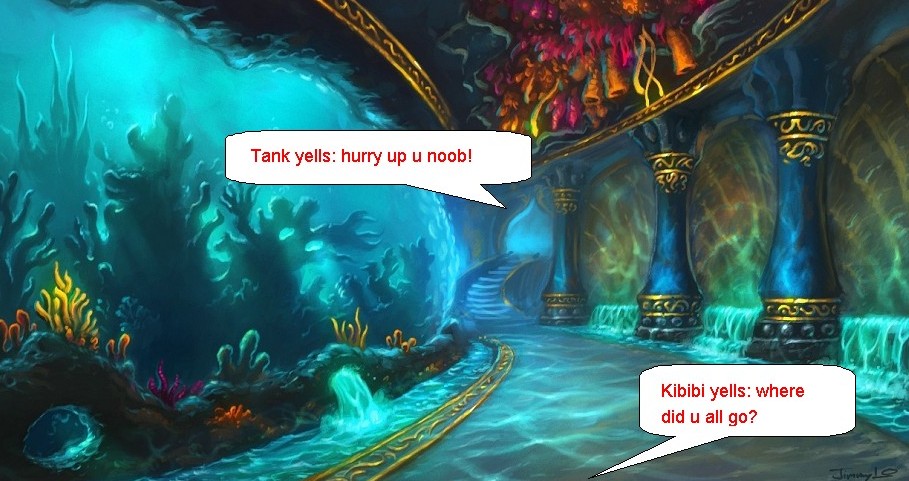 Why is it that they are in such a hurry? Is there a train to catch? Is dinner getting cold? Do they need to be in bed already? I don't get it. I find playing the game fun, and one of the most fun parts for me are (or can be) the dungeons. Strangers come together for a common goal. I don't what it to be over as quickly as possible. I wanna enjoy the ride. Kill them all and…..loot them all

Maybe I'm just the strange and funny one B-)